To get your book out there in the big wide world, you may be required to upload it to a website as a PDF file. If you're struggling to save from Word, this article could help.
Before you start, you will need to make sure your book is on the correct size of paper. If you are intending to use your PDF on anything other than A4, you will need to resize the page before you do anything else.
Paper Size
In Microsoft's Word, you will find an option for paper size under 'Layout' in the ribbon: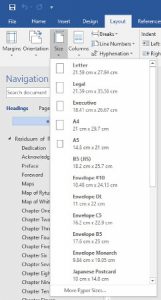 If the size you require is listed here, click it, otherwise click 'More Paper Sizes…' at the bottom.
A new dialogue window will open, where you can choose from a larger list; or if necessary enter the size in as a custom entry. For the Residuum of Ravenstone paperback, I had to enter the paper size manually (note the Width and Height values):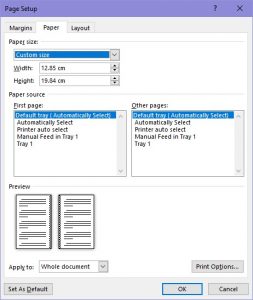 You do not need to change the First Page or Other Pages options, or worry about Print Options. You should however make sure that Apply To: is set to Whole Document.
If your page size has changed, you may now need to revisit the pages to make sure everything is aligned properly, and there are no blank pages or images pushed off the edges of the page.
Save as PDF
There is an option to 'print to PDF' which can give the same results, but I have found that a lot of the providers of this cannot support 'custom' page sizing. So if you couldn't select a pre-determined size from the list, and had to resort to a custom size, then you will need to stick to this method.
Click Save As.

You will find here a number of options. You can, if you wish, change the file name or you can go straight into saving your file as a PDF.
You can either, click the box that shows the current file type (Word Document *.doc) and select PDF.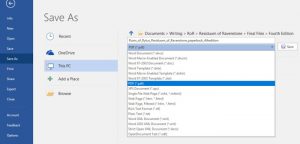 Or you can click 'More Options' underneath that to open the Save As dialogue box: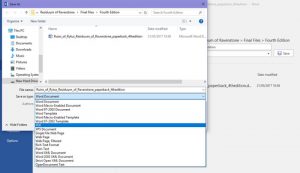 In both cases, choose the option PDF.
Click 'Save' and then Word will save your document as a PDF file using the page size you have determined. To find it, navigate to the folder where you saved it.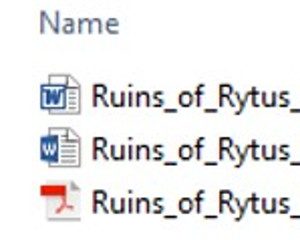 The red icon is your PDF file. Open it, to make sure it has been saved correctly. If you cannot see a red file, or cannot open it, you may need to download Adobe Reader first.